no referral required
FLEXIBLE schedule to avoid missing work
evening - saturday
MULTIDISCIPLINAIRy and COLLABORATIVE
Approach with other SPeCIALISTs
quick access
consult our schedule and book online
absolute confidentiality
no waiting room
Expertise and a wide breath of high tech
diagnostic tools
UNIQUE SERVICES IN A UNIQUE ENVIRONNEMENT
EARS
Evaluation and treatment of many ear condition such has hearing loss, tinnitus, vertigo, external otitis, serous otitis, acute otitis media, chronic otitis media, perforated ear drum, ear polyps, cholesteatoma, prominauris (prominent ear), ear tags and many other conditions. We install temporary tubes, permanent tubes and perform tympanoplasty (drum repair) under local or general anesthesia. We favour endoscopic ear surgery whenever possible to facilitate access and favour a rapid recovery.
VOICE
Evaluation and treatment of acute voice loss and chronic voice disorders, professionnal singer, business leader, teacher. Videostroboscopy - rigid and flexible - for vocal cord evaluation and recommendation for prevention and voice migration - trans-phonation.
throat
Evaluation and treatment of throat discomfort, tonsillar disease, reflux disease, swallowing disorders, throat cancer and many other condition. We offer rigid and flexible laryngoscopy, and functional endoscopic evaluation of swallowing with sensory testing.
mouth
Evaluation and treatment of benign and malignant oral lesions such as fibromas, mucocoles, lichen plan, oral cancer, and many other conditions. Exams may include an endoscopy of the throat and a biopsy. We also offer tongue tie release, lip cancer treatment and reconstruction.
skin cancer
Evaluation and treatment of skin cancers of the face, head, neck and the whole body. Exam, prevention advice, follow up examination of patients with previous skin cancer. We offer biopsies, cryotherapy (liquid nitrogen), cryosurgery, skin surgery and aesthetic reconstruction.
Skin lesions
In some cases minor surgery is available on the same day as the consultation for lipomas, sebaceous cysts, naevi, and aesthetic lesions. We also offer the correction of prominauris (prominent ears), torn ear lobes and other lesions.
Nose and sinuses
Evaluation and treatment of sinusitis, polyps, deviated nasal septum, nasal fracture, loss of smell, symptoms of allergy, nasal congestion, sleep apnea, nasal tumors and many others. We offer spirometry, nasal flow measurement, and environmental allergy skin testing. We perform endoscopic sinus surgery, nasal valve correction, septoplasty, nasal tumor resection and many other surgeries.
neck
Evaluation and treatment of neck masses, lymph nodes and thyroid lesions. We offer ultrasound evaluation, drainage and biopsy of lesions.
CNESST-EXPERTISE
CNESST and professional expertise services related to the ear, nose, throat, head and neck trauma and skin lesions.
HIGH TECH EQUIPMENT TO OFFER YOU A WIDE BREATH OF DIAGNOSTIC TESTS
SPECIALIZED DIAGNOSTIC TESTS
EAR
Hearing screening from 4 years old
Automated hearing test
Tympanometry
Stapedian reflex
Otoscopy - endoscopic ear examination
THROAT
Videostroboscopy - Rigid and Flexible
Voice analysis
THROAT
Quick strep test
Flexible laryngoscopy
Rigid laryngoscopy
Endoscopic evaluation of swallowing
Nose
Standardized smell test
Rhinometry
Sinus ultrasound
Sinuscopy - rigid and flexible
Environmental allergy testing
NECK - salivary glands
Ultrasound of the salivary glands
Ultrasound of the neck
Thyroid ultrasound
Ultrasound guided biopsy of most masses
Others
Night oximetry
Spirometry
CHOOSING A MINIMALLY INVASIVE APPROACH REDUCES THE IMPACT OF SURGERY AND ALLOWS A FASTER RECOVERY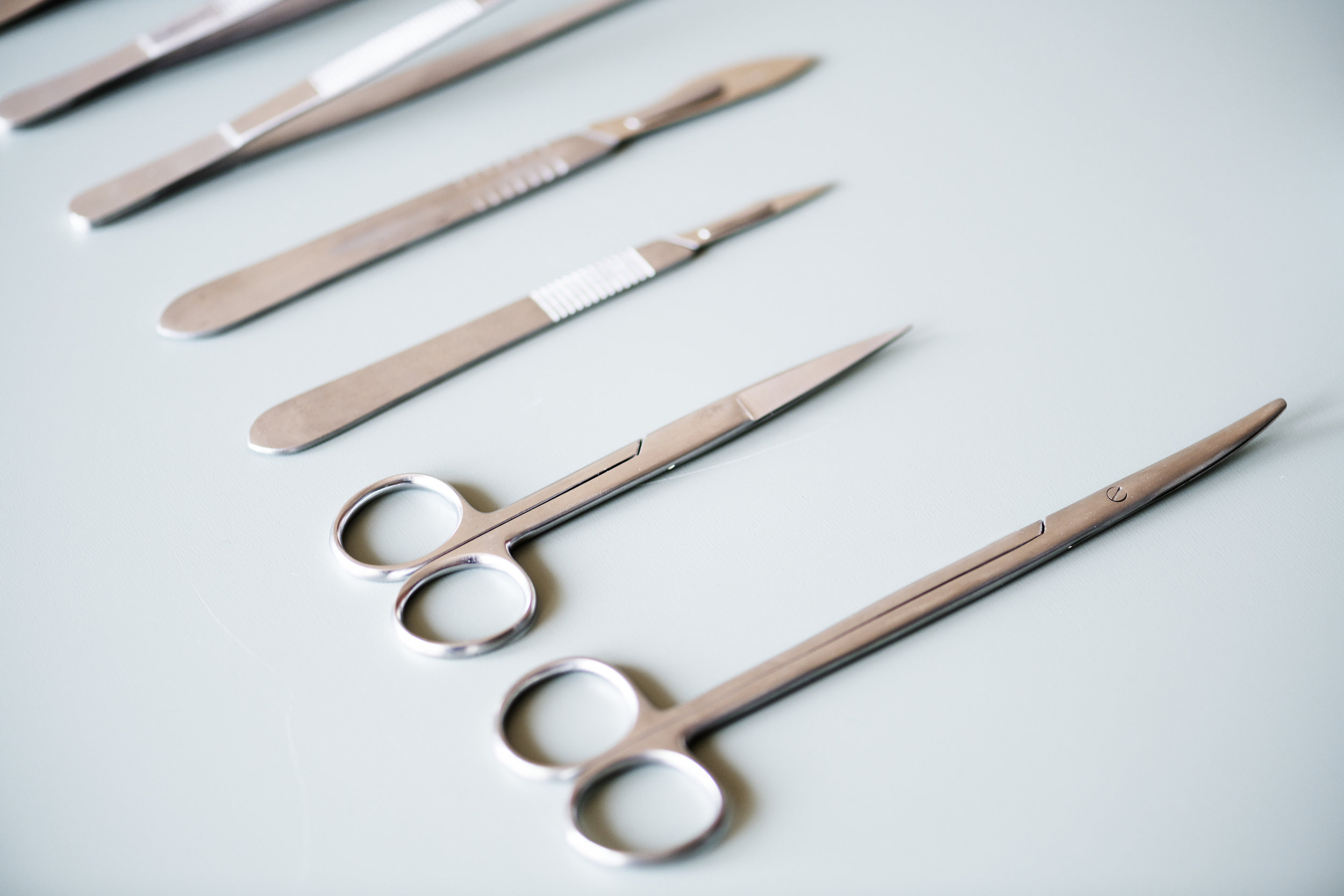 EAR
Ear cleaning and removal of foreign bodies under microscope
Tubes under local or general anesthesia
Permanent tubes by endoscopic ear surgery
'Paper' tympanoplastie (in office)
Tympanoplasty by endoscopic surgery
Cholesteatoma treatment
Correction of ear deformities
Repair of torn lobules
Nose
Cauterization for nose bleeds
Reduction of nasal fractures
Biopsy - removal of nasal lesion
Turbinate reduction
Septoplasty - correction of septal deviation
Nasal valve surgery
Endoscopic sinus surgery - Polyps, tumors, infections
mouth - throat
Biopsy and removal of lesions
Tongue tie release
PEAU
Skin biopsy
Cryotherapy
Cryosurgery
Surgical removal of skin lesion
Aesthetic reconstruction after facial surgery
Voice
Vocal cord lesion biopsy
Voice quality surgery - Phonosurgery
Voice mutation surgery - Trans-Phonosurgery
salivary glands
Ultrasound guided biopsy
Stone removal
Salivary gland surgery
Congenital lesion surgery
NECK
Ultrasound guided biopsy of cervical mass
Open biopsy of cervical mass
Removal of cervical mass
BSC HONOURS BIOLOGY ACADIA UNIVERSITY
Dr Valérie J. Brousseau completed studies in genetics and evolution at Acadia University where she obtained a Bachelor of Science with Honours in Biology. Having received Clarke K. MacLeod during her bachelor studies, she continued to receive it through her studies in medicine at McGill University. During her studies she continued to participate in research and contributed to projects in paediatric ENT at the Cleveland Clinic and in neurodevelopment of the auditory cortex at Johns Hopkins University.
MEDICAL DEGREE AND SPECIALTY IN OTOLARYNGOLOGY HEAD AND NECK SURGERY AT MCGILL UNIVERSITY
Dr Brousseau graduated from the McGill University faculty of medicine in 2004 with a MDCM and continued her specialty studies in otolaryngology head and neck surgery at McGill University. During her training, she participated in multiple research projects in otology, voice and oncology, made more than 15 peer-reviewed publications and presented at multiple national and international conferences.
ENDOSCOPIC SURGERY TRAINING AT BRITISH COLUMBIA UNIVERSITY
Having completed her specialty training in 2009, she trained in endoscopic ear surgery at the University of British Columbia. She became the first surgeon to practice this technique in Québec in 2013.
GLOBAL CLINICAL SCHOLAR RESEARCH TRAINING PROGRAM AT HARVARD UNIVERSITY
Having continued interests in clinical reDr Brousseau completed the prestigious Global Clinical Research Scholar Training Program (GCRST) with great distinction at Harvard University in 2016.
CERTIFICATE IN MANAGEMENT FROM HBX AT THE HARVARD BUSINESS SCHOOL
In 2018 Dr Brousseau completed her professional training with a certificate in management at the HBX at the Harvard Business School, of Harvard University.
CARE FOR THE PERSON FIRST